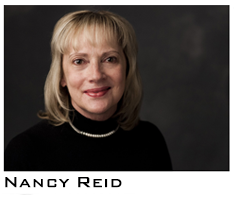 Nancy Reid is known among her friends as a great cook. At Motion Post, she is known for cooking up great concepts and seasoning them to delicious perfection.
Nancy has spent over 20 years focussed on video marketing in Chicago's production community. She has worked as Director of Sales & Marketing and General Manager for some of the most prestigious production facilities in Chicago. The scope of her work runs the gamut from corporate communications, to web-casting, through television and radio commercials. Her most recent clients include Illinois Institute of Technology, Mario Tricoci Hair Salons & Day Spas, and the National Society for Hispanic MBA's.
She has also served on the boards of Women In Film, American Women in Media, the American Women in Television and Radio and the Healthcare Businesswomen's Association of Chicago.
Nancy can cook up a sweet project for you. We consider her our secret recipe for success.