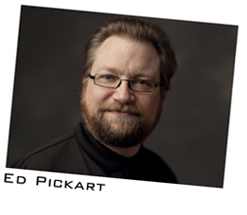 It all comes down to storytelling; collaboration is key. Ed's clients rely on him to bring their ideas to life. Projects such as the Emmy-nominated children's television program "Jack's Big Music Show" and the Emmy-winning web series "FilmFellas," are two examples of teamwork in the edit suite.
2011 saw numerous festival laurels and a national theatrical release of his feature length documentary editorial project "Fordson: Faith, Fasting, Football.", now available on Netflix.   Other series credits include Nickelodeon's "Curious Buddies" and 5 seasons of MOJO'S "Fields of Glory" and "Hardwood Heavens". On the corporate side he's worked with clients for the American Medical Association, Ogilvy PR, The Ounce of Prevention Fund, and the Illinois Holocaust Museum & Education Center.
Ed sometimes has trouble staying tethered in this planet's forced gravity environment and would love to be an astronaut when he grows up (except for the motion sickness… and a mortal fear of heights…).