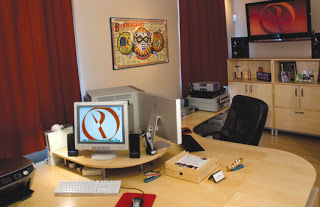 Our interview in Screen Magazine touches on some of the issues we are tackling in the post industry here in Chicago. I will be writing more in the coming months about our approach and the ways we are helping our clients leverage the "lower barrier to entry" that the current state of the art offers.
SCREEN: When you started Motion Post, what were your initial thoughts to establishing your niche?
MP: During our conversations in 2006 we realized that – and I think everyone sees this now – the old big post house model was quickly dying. The development of inexpensive and easy to use computer based editorial tools has "commoditized" the process. What had once been an expensive and difficult step in most video production is now neither and the big post services companies were finding themselves competing against small flexible creative individuals with nearly the same technical capabilities using new technology.
We work to leverage the same aspects of the state of the art that have cut so deeply into other campanies' bottom line. Our first answer to that transition was to create our Mobile Editing System and it was the best investment we ever made.
Your can read more at:
Screen Magazine – Post it Notes