Ed Says:
I'm pleased to announce that last night Fordson: Faith, Fasting, Football won the Slamdance Special Jury Award for Documentary Feature.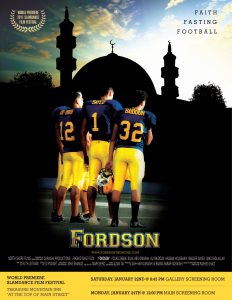 The Grand Jury Prize for Documentary Feature went to the excellent film "Bhopali". Our sincerest congratulations to the producers of that moving and important work.
Everyone at Slamdance has been incredibly supportive of Fordson. At the awards ceremony they said, "The Slamdance jury was moved by this great American story about life, liberty and the pursuit of football."
The juror who presented us with the award, Adrian Belic (director of the 1999 doc Genghis Blues), was personally very vocal, supportive and complimentary of the film. My personal thanks to him for championing us all this week.
Kudos, congratulations and thanks go to the production team: Director Rashid Ghazi's dogged determination to get this thing done and done right, producers Ash-har & Basma Quraishi's creative guidance, Ruth Lietman's insight providing structure to the chaos of 75 hours of raw footage, our amazing photographers Michael Shamus and Mark Berg for their amazing photography, and to all of their unwavering trust in my input and ability to help bring it all together.
I look forward to the next opportunity I might have to submit a work to Slamdance. I'll always keep an eye on Park City, Utah.