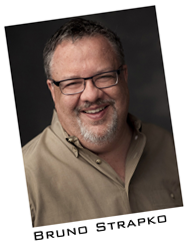 They say a picture is worth a thousand words, but if there is sound to be heard, Bruno Strapko is your man. Bruno's list is credits is so long our Web Master won't let us list them all.
Suffice to say, Bruno has led many quality recording and mixing projects for clients like Ameritech, Kraft, Motorola, and United Airlines, among others. The Museum of Science of Industry's famous model train exhibit's sound design was provided by Bruno. Broadcast work includes the Auditorium Theatre airing on WTTW-TV/PBS (Chicago) and cable documentaries on Discovery and A&E (especially wraparounds on location with Bill Kurtis in Cook County Jail!). He's done spot work for the Chicago Blackhawks "At Home On TV" campaign and "On The Big Stage" for the Big Ten Conference.
Bruno adds his own noise to events as a rabid hockey fan, a Bears season ticket holder, and a lousy golfer who usually plays better while smoking a Nat Sherman cigar.