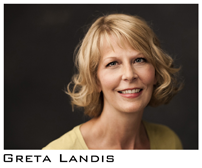 An award-winning director, Greta loves the challenge that each production may bring. She has extensive experience interviewing and directing people from all walks of life; from sports celebrities, CEO's, actors, impromptu man-on-the-street, to even the smallest of voices – children, just to name a few. Her ability to make people feel at ease on set adds to the success of any finished production.
Greta has been working in video communications for over 25 years, with humble beginnings at the ABC news affiliate in Omaha, NE before moving to Chicago. The Hephzibah Children's Association, the American Bar Association, the American Dairy Association and United Airlines, as well as many PR firms, are among her favorite clients.
Locally, Greta serves on the River Forest Youth Baseball-Softball Board, Hephzibah Children's Association Oak Park Auxiliary Board, as well as working with the OPRF High School Booster Club to raise funds for the school's academic, athletic, arts and activitiy departments.