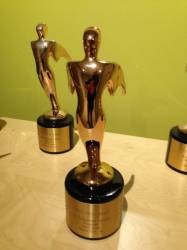 IIT Professional Learning Program wins Telly Award
I'd like to thanks the Academy …. but seriously, I'd really like to thank all the people that help make this possible, Nancy Reid, Tom McCosky, Tom Vangel and Zet Smith and the great team at IIT.
The university has also been using the Campus b-roll we shot in their public relations and Crain's Chicago Business also featured several of the shots we created for IIT.